Nueva Publicación de nuestros investigadores
Gabriel Carrasco Escobar, Oscar Nolasco, Dionicia Gamboa, Alejandro Llanos-Cuentas y Joseph M Vinetz   
Revista: Scientific Reports SJR: 1.01 Q: 1
Effect of out-of-village working activities on recent malaria exposure in the Peruvian Amazon using parametric g-formula
Gabriel Carrasco-Escobar 1 2, Jason Rosado 3, Oscar Nolasco 4 5, Michael T White 3, Ivo Mueller 6 7, Marcia C Castro 8, Hugo Rodriguez-Ferruci 9, Dionicia Gamboa 4 5 10, Alejandro Llanos-Cuentas 4, Joseph M Vinetz 4 5 11, Tarik Benmarhnia 12
Affiliations
1Herbert Wertheim School of Public Health and Human Longevity Science, University of California San Diego, La Jolla, CA, USA.

Esta dirección de correo electrónico está siendo protegida contra los robots de spam. Necesita tener JavaScript habilitado para poder verlo.

.
2Health Innovation Lab, Institute of Tropical Medicine "Alexander Von Humboldt", Universidad Peruana Cayetano Heredia, Lima, Peru.

Esta dirección de correo electrónico está siendo protegida contra los robots de spam. Necesita tener JavaScript habilitado para poder verlo.

.
3G5 Épidémiologie Et Analyse Des Maladies Infectieuses, Département de Santé Globale, Institut Pasteur, 75015, Paris, France.
4Instituto de Medicina Tropical Alexander Von Humboldt, Universidad Peruana Cayetano Heredia, Lima, Peru.
5Laboratorio ICEMR-Amazonia, Laboratorios de Investigación Y Desarrollo, Facultad de Ciencias Y Filosofía, Universidad Peruana Cayetano Heredia, Lima, Peru.
6Department of Medical Biology, University of Melbourne, Melbourne, Victoria, Australia.
7Population Health and Immunity Division, Walter and Eliza Hall Institute of Medical Research, Melbourne, Australia.
8Department of Global Health and Population, Harvard T.H. Chan School of Public Health, Boston, MA, USA.
9Universidad Nacional de La Amazonía Peruana, Loreto, Peru.
10Departamento de Ciencias Celulares Y Moleculares, Facultad de Ciencias Y Filosofía, Universidad Peruana Cayetano Heredia, Lima, Peru.
11Section of Infectious Diseases, Department of Internal Medicine, Yale School of Medicine, New Haven, CT, USA.
12Scripps Institution of Oceanography, University of California, San Diego, CA, 92037, USA.
PMID: 36351988
DOI: 10.1038/s41598-022-23528-8
Abstract
In the Amazon Region of Peru, occupational activities are important drivers of human mobility and may increase the individual risk of being infected while contributing to increasing malaria community-level transmission. Even though out-of-village working activities and other mobility patterns have been identified as determinants of malaria transmission, no studies have quantified the effect of out-of-village working activities on recent malaria exposure and proposed plausible intervention scenarios. Using two population-based cross-sectional studies in the Loreto Department in Peru, and the parametric g-formula method, we simulated various hypothetical scenarios intervening in out-of-village working activities to reflect their potential health benefits. This study estimated that the standardized mean outcome (malaria seroprevalence) in the unexposed population (no out-of-village workers) was 44.6% (95% CI: 41.7%-47.5%) and 66.7% (95% CI: 61.6%-71.8%) in the exposed population resulting in a risk difference of 22.1% (95% CI: 16.3%-27.9%). However, heterogeneous patterns in the effects of interest were observed between peri-urban and rural areas (Cochran's Q test = 15.5, p < 0.001). Heterogeneous patterns were also observed in scenarios of increased prevalence of out-of-village working activities and restriction scenarios by gender (male vs. female) and age (18 and under vs. 19 and older) that inform possible occupational interventions targetting population subgroups. The findings of this study support the hypothesis that targeting out-of-village workers will considerably benefit current malaria elimination strategies in the Amazon Region. Particularly, males and adult populations that carried out out-of-village working activities in rural areas contribute the most to the malaria seropositivity (recent exposure to the parasite) in the Peruvian Amazon.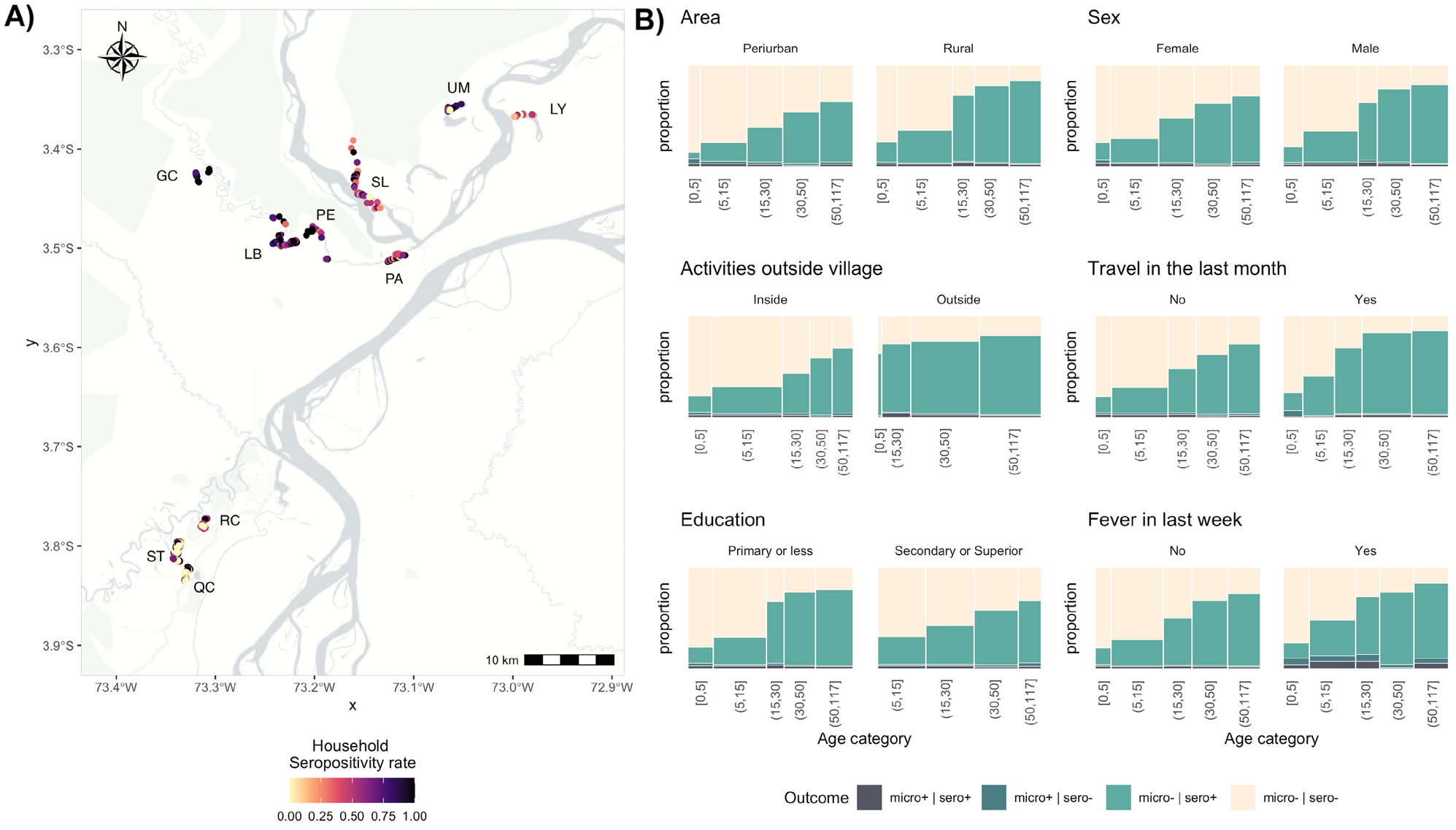 Study area and socio-demographic distribution of seropositivity in the Loreto department in the Peruvian Amazon. (A) Seropositivity rate at household level in the villages of Iquitos district (bottom left): Rumococha (RC), Santo Tomas (ST), Quistococha (QC), and Mazán district (top right): Gamitanacocha (GC), Libertad (LB), Primero de Enero (PE), Puerto Alegre (PA), Salvador (SL), Lago Yuracyacu (LY), and Urco Miraño (UM). (B) Distribution of serology (sero) and microscopy (micro) rates across age categories and sociodemographic variables. Maps were produced using R v.4.1 (R Development Core Team, R Foundation for Statistical Computing, Australia) based on public geographic data extracted from OpenStreetMap contributors (www.openstreetmap.org) under Open Data Commons Open Database License (ODbL) 1.0 (http://openstreetmap.org/copyright).
Conoce las publicaciones por año de nuestros investigadores 
Visualiza el resumen de nuestra oficina de investigación con las  publicaciones recientes 
Oficina de investigación - ¿En qué te podemos ayudar?